11 Blogging Tips from My 11 Years of Blogging
World of Freelancers contains affiliate links. If you make a purchase through these links, I will earn a commission at no extra cost to you.
There are so many great reasons for starting a blog.
Some people begin to blog just for fun. Other people blog to earn money. As freelancing becomes increasingly popular, more and more freelancers are starting a blog to showcase their products and services. All of these are excellent reasons to have a blog.
It is not difficult to start a blog. It doesn't even have to cost any money.
The internet, however, is an extremely crowded place – sort of the digital version of a massive marketplace where all the shops are competing fiercely for attention and business.
If you want your blog to become something more than an overlooked spot on the massive space that is the internet, you definitely need to know what you're doing.
I've been blogging on and off – mostly on – since February of 2010. First I had a travel blog and now I have World of Freelancers, with a couple of smaller blogs too along the way. I love blogging, lots of my posts rank on page one on Google, and I do earn money doing this.
So I've been at it for a while, I enjoy it and I'm pretty good at it. I want to share with you some blogging tips that I've learned from my 11 years of blogging.
Most of these blogging tips are relevant whether you blog with WordPress, Wix, Weebly or any other content management software out there. I myself blog with – and recommend – WordPress, so some of these tips are specific to only that platform.
Here are my 11 blogging tips that I've learned from 11 years of blogging.
11 Blogging Tips from
11 Years of Blogging
What is a blog, anyway?
The word blog is often synonymous with the word website. However, a website is not always a blog. A blog, though, is pretty much always a website.
Confusing, isn't it?
Here's a very basic breakdown of what is what.
Blog – A blog is routinely updated with brand new content.
Website – A website contains only static, unchanging content.
Website/Blog – Contains mostly static, unchanging content. Also has a blog section which is routinely updated with brand new content.
My 11 Blogging Tips
1. Start off on the right path
You can't just launch a blog and expect things to happen. You'll be taken more seriously if your blog has an appealing, professional appearance; contains original, interesting content; and has a fast loading speed, to name just a few important factors.
So spend time – and probably some money – setting up your blog correctly at the beginning. You will be starting off on the right path and not have to change things or fix things later.
All of the rest of these blogging tips flow from this first piece of advice.
2. Choose a niche you will enjoy
If you're a freelancer who's starting a blog to showcase your work, your freelance skill(s) will be your niche, and that is perfect.
If you're interested in starting a blog in order to earn money from blogging, be careful about choosing your niche. Don't decide on a niche just because it is a lucrative niche. Some bloggers do this, but I personally do not think it is a good idea.
That is because blogs need to have often-updated, fresh content. If you don't enjoy your niche, you probably won't enjoy creating your content. So instead of enjoying blogging, you very well may end up not liking it at all.
Don't hesitate to choose a lucrative blogging niche, but definitely make sure it is one you will enjoy.
3. Choose the right
blog hosting service
Website hosting services run the range from awesome to awful.
Your web hosting service owns the server on which your blog will exist. Choosing the wrong blogging host can cause you a host (no pun intended) of problems, including:
Slow loading speed – If your blog loads too slowly, people will click off of it before they even give it a chance. Also, Google will likely decrease your blog's rank in search engine results – which means that people will not be able to easily find your blog when surfing the web.
Inept technical support – If you have a technical issue (and you will) you are going to want a tech support person who actually knows what they're doing to help you fix it. You can't necessarily find competent tech support at all hosting companies.
A lot of stress – When you finally decide to switch to a better hosting company, you'll discover that moving your blog from one server to another is a stressful hassle that will cost you time and money.
I've used three blogging hosts over the years. The first two were not very good at all. A couple of years ago I switched to SiteGround website hosting and am thrilled and relieved that I have finally found an excellent hosting company. You can read my review of SiteGround right here.
With SiteGround my website loads consistently fast and I consistently get the best tech support I've ever gotten from a website hosting company, by far.
I very highly recommend SiteGround hosting service for your blog. You can learn how you can get your blog hosted on SiteGround right here.
4. Choose the right blog theme
Every blog has a theme. A theme is the sort of foundation with which you design the appearance and layout of your blog.
Once you choose the right theme, you or your web designer will be able to start designing your blog.
There are a huge number of WordPress themes out there, and many of them are not all that different from each other at all. Some are free themes and some are pro themes. There are so many that choosing the right theme for you and your blog can be totally overwhelming.
I got my theme, Total Theme, from Envato Market and am really happy with it.
This is a pro theme, which I decided to invest in because pro themes give you many more really important features than do free themes, including:
a more professional appearance
more design options
more functionality
responsive technical support
frequent theme updates to keep it compatible with WordPress and plugins
Wherever you decide to get your theme, I do recommend you get a pro theme for all of the reasons above.
Envato Market has a massive selection, but you can first look around for what you like, then narrow your choices easily by using their filters until you land on the theme that is right for you and your blog. This made choosing what theme I would buy easier than it would have been otherwise.
The next time I need a WordPress theme, I'll be getting it from Envato. You can look through Envato Market's theme choices right here.
5. Don't dabble in duplicate content
Another term for duplicate content is plagiarized content. Plagiarizing is never good.
Some people publish other people's content on their blogs, and a lot of the people who do this don't realize it's wrong. After all, what's on your blog is accessible to everyone, so there's nothing wrong with copying it and republishing it, right?
Totally wrong.
Google easily recognizes plagiarized content. And they're clear in their Webmaster Rules that they may take action against websites that have this duplicate content.
This usually means that Google will lower the post with the plagiarized content – and maybe your entire blog – in its search engine rankings. So anyone searching for information on a topic you've written about will find that information – but not from your blog. This means a loss of traffic and potentially a loss of income.
So don't be a blogger who has duplicate content on your blog.
6. Join the right affiliate programs
If you're interested in making money on your blog, you need to join some affiliate programs. I recommend joining a mix of both high-paying and low-paying programs.
I see so many bloggers talking about Amazon. I can't stand it. Amazon often cuts commissions to bloggers so that you now make almost nothing as an Amazon affiliate. I wouldn't be surprised if they eventually discontinue their affiliate program entirely.
There are hundreds of affiliate programs out there which suit probably every possible blogging niche. Choose affiliate programs which fit your niche and have products your readers could use. After you've been blogging for a while, companies which have affiliate programs will end up finding you approaching you to help them promote their products.
7. Don't lose readers because of a
slow-loading blog
After you click on something on the internet, how much time do you wait for it to load so you can read it?
Probably, like most people, not very long.
According to content marketing guru Neil Patel, 40% of people abandon websites that take more than 3 seconds to load. Most of those people never come back.
If your blog takes too long to load, almost everyone is going to leave and go read someone else's blog instead. A slow-loading blog can also cause Google to decrease your ranking in search results.
Choosing the right website hosting company, as I detailed earlier in number 3, is critical for a lot of reasons, including your blog's loading speed.
The right hosting company is often not enough, though. Millions of blogs load at lightning speed. If you want your blog to be able to compete, you may need more of a speed boost than even the fastest server at the best hosting company can give you.
For that reason I was very grateful to discover WP Rocket. I – like lots of other bloggers – have found that by simply installing this WordPress caching plugin, our blogs immediately began to load super fast. You can learn about how WP Rocket sped up my blog here.
Other bloggers find that after installing WP Rocket they still need even more speed (possibly because they're not using a good hosting company). These bloggers then get their sites loading extremely fast by simply adjusting any of the many features of WPRocket.
I totally recommend WP Rocket. You can get WP Rocket and speed up your site too right here.
8. Go straight to the source for
SEO info
You don't need to spend a ton of time studying search engine optimization (SEO) in order to start a blog, but you should learn at least a little about it.
Implementing good SEO practices can enable your blog posts rank higher than other blogs that do not practice good SEO. Having at least some SEO skills is very important for this reason.
I sometimes see advice on blogs, Facebook groups and elsewhere around the internet interpreting Google's SEO rules – incorrectly. So the most important SEO tip I have is this: put what Google says about SEO above what anyone else says about SEO.
When you want accurate information, it is best to go straight to and only to the source – not only for Google's SEO guidance but for anything in life.
You'll find the Google SEO Starter Guide here.  As you can see, this guide is pretty in depth and some of the guidance might be a bit difficult to understand. Thus, all the well-meaning but often inaccurate SEO advice on so many blogs across the internet.
You don't have to be overwhelmed studying the whole SEO guide – just read it over, then refer to it when you have an SEO question. It's okay to get SEO advice other than from Google itself, but before you implement that advice first cross-check it first with Google's SEO guide to make sure it's actually accurate.
WordPress bloggers can also use the Yoast SEO plugin to give you guidance on optimizing your blog posts.
9. Know About Google's
Webmaster Rules
Google very much cares about the experience people have with its search engine, so they have very specific rules for webmasters – including bloggers – to follow. Google's Webmaster Rules spell out what you need to do in order for Google to locate, index and rank your blog.
These rules can seem quite complicated. Like Google's SEO rules, you don't have to spend tons of time studying these. Some bloggers pay no attention to them at all. These bloggers, though, run the blogs that you will probably never find when you search for info on Google.
It is important to know that these rules at least exist and to refer to them when you have a question.
You can read through the rules here and then save them for you to reference later. Alternatively, when you're working on your blog and you find yourself wondering about how to do – or whether to do – something, do a Google search for your question along with the phrase "Google Webmaster Rules" and you should be able to find an accurate answer.
10. Track your statistics
When you have a blog, you're going to want to know a bit about the people who are reading your content and exactly what they're reading.
Fortunately, there are several ways to see who's doing what on your blog.
Google Analytics offers the most in-depth tracking and analysis by far, and it is totally free to install and use. I really like Google Analytics and use it more than any other analytics tool.
Installing the Google Analytics code on your site so you can track your statistics is unfortunately not all that straightforward and easy at all. So I was really happy to find the free MonsterInsights plugin. With this plugin I was able to install the code on my blog in well under a minute.
MonsterInsights also lets me see your blog analytics at a glance, much more quickly and easily than with Google Analytics. You can check out MonsterInsights here.
I also use the Crazy Egg heatmap on my blog. This is not free but I think the cost is worth it as it's a really cool tool which shows you what parts of each blog post people are spending the most time on and where they're clicking. You can check out Crazy Egg here.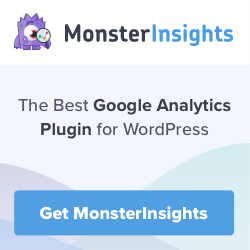 11. Create quality content
Content is king is a trite – but still true – expression amongst bloggers. The people who read your blog will notice things like how your site looks, how fast it loads, etc. But what people notice above all is your content.
Perhaps my most important blogging tip is this – create original, interesting, useful, well-presented content. If writing isn't your thing, that is perfectly all right. That can be a good thing, actually. Your content can be a mix of writing and videos as well as podcasts. Lots of people prefer videos and podcasts over reading.
Whatever type or types of content you choose to create, focus on that above all. Create great content and you will have a great blog.
There are so many great reasons for starting a blog. If you want to do it, you definitely can. So use my 11 blogging tips to help you get there.
Leave a comment below if you've got any questions or just want to let me know about your blog!
Images by StockSnap Gerd Altmann  Ary setyobudi
Sabina Lohr is a lifelong freelancer turned entrepreneur who created World of Freelancers to help others discover how to work for themselves online and live the freelance lifestyle. She's always really enjoyed the freedom that freelancing brings, including several years on and off of working online while traveling and living abroad.