Gifts for Freelancers Who Travel and Work
World of Freelancers contains affiliate links. If you make a purchase through these links, I will earn a commission at no extra cost to you.
Good gifts for freelancers who travel and work can be hard to find.
When you travel and work as a freelancer, especially if you're traveling long term, you really can't carry around much. Most digital nomads travel with only as much as they can carry in a backpack. 
I've been working while traveling on and off for ten years, so I've got a good idea of what type of gifts are suitable for digital nomads. Here are 20 gifts for freelancers who'll be working while traveling in 2023.
Most of these gifts are well under $50.
20 Gifts for Freelancers Who Travel and Work
While looking for gifts for freelancers who travel and work – whether they're new to it or have been at it for years – keep in mind that you need to be smart about what you give them. Digital gifts are ideal for people who travel and work. Practical gifts which can help them out on the road are much appreciated as well. And of course everyone likes fun gifts.
Digital Nomad Gear and Tech
1. TextExpander Productivity App – When you're freelancing online while traveling, you definitely want to be pulling in some money from your work. Increasing your productivity is one of the most effective ways to increase your income. 
I use a productivity app called TextExpander which helps me work a little faster because it helps me write faster. You can read how freelancers can use TextExpander here. Using TextExpander, I assign small snippets of text to words, phrases, sentences and even entire documents that I commonly write. Then each time I want to use that word, phrase, sentence or entire document, rather than typing it all the way out from scratch, I type out a short bit of text instead. 
For example, rather than typing out "TextExpander" each time I want to use it, I type "tteex" instead. You can see that when you type just several characters like that rather than entire sentences and documents, you definitely will save yourself some time. This productivity app is an extremely useful for gift for freelancers because for us, time equals money.
You can give the gift of TextExpander right here.
2. Travel Power Adapter – People who travel and work won't get very far without a power adapter so that they can plug all of their devices into any shape and size outlet in any country in the world. People who are currently working while traveling definitely have one of these already, but if you know a freelancer who's about to set out to travel the world, an adapter is a great and inexpensive gift.
The Unidapt travel power adapter has intelligent charge, which recognizes whatever device you plug into it and delivers the proper charge. You can also charge up to 5 devices at a time with this adapter.
Get this gift for freelancers on Amazon right here.
3. External Battery Charger – Much of the world does not have good electrical current. Plug your device directly into a wall socket with erratic electricity and eventually you will fry your battery. Having learned my lesson, I now use an external battery charger to avoid ruining my phone.
I plug the external battery charger into a wall socket, let it deal with the poor-quality electrical current, then plug my phone into the charger and let it charge safely. External battery chargers are also super handy for simply charging up your phone when you're out and about or traveling from one location to another.
This Tulpock, unlike many other external battery chargers, has an LED display so you will know exactly how much your phone is charged rather than having to guess. It's thin and lightweight for easy carrying, making it a great gift for freelancers who work and travel.
4. Nord VPN – The internet is important to everyone and even more so to freelancers who travel and work. When you travel and work online, you really need to have a secure connection with no fear of hacking, identity theft or other problems. The best way to be online safely around the world is with a VPN.
Nord VPN is a very highly-rated VPN service which can be used all over the world. One account protects up to six devices. You can choose from plans that are billed monthly, annually or even only once every two or three years.
5. Noise-Cancelling Headphones – It's hard to get work done if you can't concentrate, and it's hard to concentrate when you're in a noisy, distracting environment, which is pretty common when you work and travel. This is where noise-cancelling headphones come in very handy. 
Put these on to block out the noise and distractions, and work to the sound of silence or even listen to some music or audio books if you want. 
There are so many different kinds of noise-cancelling headphones. Bose is the most popular brand I know of, but their noise-cancelling headphones are expensive, running up to $400. You can give the gift of their highly rated Bose QuietComfort 25 for under $130, though. 
6. Wifi Extender – One of the biggest problems digital nomads face on the road is the uncertainty of finding a solid internet signal. When you work online, good internet is one of the most important things in the world.
Fortunately, there is a way to get online even when a good signal is not nearby. A WiFi extender  reaches out and grabs a weak or distant internet signal and rebroadcasts it to where you are so you can hop on that signal and get online. 
NetGear has a WiFi extender that your traveling freelancer can plug into a wall socket (using the proper travel adapter) and connect up to 15 devices in order to snag a signal as far as 1,000 feet away. This WiFi extender can relieve a lot of stress and wasted time chasing a signal by bringing the internet right to where you need it to be.
7. Amazon Fire – A lot of people love their Kindles, but I prefer my Amazon Fire. Not only can you download and read books on this device like you can a Kindle, you can also get on the internet and even take photos. This is an excellent way to get a bit of work done when you're on a long plane, train or bus trip or even when you don't feel like lugging a computer around. 
The new Fire HD10 comes with 32 or 64 GB of storage, up to 12 hours of battery life and is 30% faster than previous models, making it one of those ideal gifts for freelancers who work and travel.
Grab an Amazon Fire HD10 here.
Digital Nomad Travel Gifts 
8. Viator Day Tours – Even long-term travelers like to take day tours sometimes. The digital nomad in your life might not book a tour for themselves, so this makes a welcomed gift. 
With Viator you can reserve a spot on a tour and not pay until later, a commitment-free way to be flexible. This way the recipient of your gift won't be locked into a date and time that doesn't work for them and can easily change it. 
A few examples of some Viator tours for the digital nomad in your life…
Dubai, U.A.E. – Burj Khalifa At the Top entrance ticket. Book this tour here.
Rome, Italy – 40% off tours and activities. Book this tour here.
U.S.A.  – 30% helicopter flights over the Grand Canyon. Book this tour here.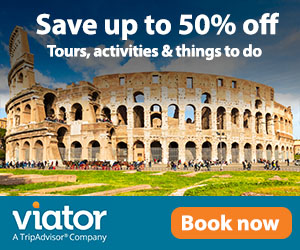 9. Travel Discount Gift Card – Some people think gift cards are boring, but not when you're traveling. They're not only not boring, they're useful and helpful and fun. Especially if they're gift cards for travel-related products. 
Some great travel gift card ideas for the digital nomad in your life:
$100 off a Southwest Airlines plane ticket. Grab this gift card here. 
$25 off a hotel room with Hotels.com  Grab this gift card here.
$50 off an AirBnB stay  Grab this gift card here.
Travel and Photography Books 
If the traveler in your life is a book lover, they love the gift of books. Travelers usually enjoy reading about (and talking about and thinking about) travel, so I've come up with six travel books your digital nomad might like. I've also included a heavily discounted bundle of photography Ebooks and courses. 
Three of the travel books are hard copy books and the other three are audiobooks. Most are true stories. 
10. Amazon Audible Membership – A lot of people like to listen to audio books while traveling, so the first gift I'll list under this category is an Audible membership. With Audible, you never pay full price for audio books. Download them at 30% off and listen to them on your Amazon Fire or Kindle device. 
Amazon Prime members can get Audible for free, but since people who travel and work usually don't have Prime, they pay $14.95 for an Audible membership. You can save the traveling freelancer in your life some money and give the gift of an Audible membership for one, three, six or 12 months. This is one of those great gifts for freelancers who travel.
11. Bundle of Photography Ebooks and Online Courses – Photos are a very important component of travel. Even if you don't have a real camera and just take photos on your phone, they can still be striking and high quality if you know what you're doing. 
Learning photography skills doesn't have to be complex and expensive.  The Photography Super Bundle has 21 Ebooks and online courses created by world class photographers which teach you how to take enviable, high-quality photos. This bundle has a training guide for beginning photographers, an eCourse on how to take amazing photos in manual mode, lots of information on how to use advanced techniques with Canon and Nikon DSLR cameras and a ton more.
All of the 21+ products in this bundle sold separately cost over $1,200. Bought altogether in the Photography Super Bundle, though, they're only $49.97. This is a really thoughtful and helpful gift for freelancers who are interested in improving their photography skills.
Grab the Photography Super Bundle here. 
12. Vagabonding: An Uncommon Guide to the Art of Long-Term World Travel, by Rolf Potts – Veteran travel writer Rolf Potts wrote this now updated and revised handbook to explain how to travel the world successfully. From financing your travels to deciding where  you want to go to adjusting to life on the road, Rolf has invaluable advice taken from years of traveling. 
Give the gift of this book here.
13. How Not to Travel the World, by Lauren Juliff – In this true story, anxiety-riddled Lauren Juliff graduates with a degree in physics from her university in England, then throws everything into a backpack and embarks on a world journey which lasts for about 7 years. Traveling through China, Nepal and the Democratic Republic of Congo amongst dozens of other beautiful yet challenging countries, her misadventures are hilarious. She uses her intelligence to overcome every unfortunate situation and ends up becoming a seriously admirable, experienced world traveler. 
14. Lagom: The Swedish Secret of Living Well, by Lola Akinmade Åkerström – Lagom is the Swedish way to happiness based on balance – not too much, not too little. It is the essence of what it means to be Swedish. In this book, Lola Akinmade Åkerström, an award-winning travel writer and photographer living with her family in Sweden, shows you how to make small, simple changes to your own life so that you can enjoy a more balanced way of living, like the Swedish.
In hardback only on Amazon here.
15. Postcards from Europe: Travel Tales from America's Favorite Guidebook Writer, by Rick Steves – This journal focuses on television travel personality Rick Steves' adventures in Europe. He helps you smell the smells and hear the sounds as well as see the sights across this amazing continent. Rick also provides insight into life as a successful travel writer and how he began his incredibly successful business. 
16. Eat, Pray, Love, by Elizabeth Gilbert – You may have seen the movie Eat, Pray, Love starring Julie Roberts. The book is better. 
Written by bestselling author Elizabeth Gilbert, this memoir of her one-year journey of self-discovery across Italy, India and Indonesia gives insight not only into the author but the countries and cultures as well. Her writing is beautiful, fun and motivating.
17. Love with a Chance of Drowning, by Torre DeRoche – American city girl Torre DeRoche is swept off her feet by a handsome Argentinian in a bar in San Francisco who then sweeps her out to sea on a journey across the Pacific Ocean. 24 years old and terrified of water, this harrowing ocean adventure changes the course of her life forever.
18. Wild: From Lost to Found on the Pacific Crest Trail, by Cheryl Strayed – In this true story and  number 1 New York Times bestseller, Cheryl Strayed writes about how losing everything drove her to hike 1,000 miles along the Pacific Crest Highway on the West Coast of the United States, alone, a journey that ultimately healed her.
Digital Nomad Accessories
Freelancers who work while traveling can't carry much, so it's always a good idea to give them travel accessories which will help them rather than just be one more thing to lug around. The last two items in this list make great and thoughtful gifts for freelancers who travel.
19. Microfiber Towel – Microfiber is amazing. What a game changer this lightweight, super-fast drying material is. Instead of relying on sometimes gross hotel and hostel bath towels, digital nomads can pack their own microfiber towel . They're extremely lightweight, dry quickly and take up almost no room, making them one of those ideals gifts for freelancers who travel.
Grab a MojaFiber microfiber towel here.
20. Packing Cubes – You may think it's easy to stay organized when you're carrying around pretty much everything you own in a backpack or suitcase, but things can actually get pretty messy. This is where packing cubes come into the picture. 
Use packing cubes to organize some or all of your belongings whether you travel with a suitcase or a backpack, and you'll save time plus spare yourself annoyance when you're digging around looking for something you need. 
Shacke Pak packing cubes are made of high-quality water resistant nylon, come in four sizes and eight colors.
Grab these packing cubes here. 
Now you can rest easy, knowing that you've bought a thoughtful gift that will be appreciated by the traveling freelancer in your life.
You can read my advice for women who work and travel here.
Images by Jefferson Santos  Matthias Zeitler and Dan Nelson
Sabina Lohr is a lifelong freelancer turned entrepreneur who created World of Freelancers to help others discover how to work for themselves online and live the freelance lifestyle. She's always really enjoyed the freedom that freelancing brings, including several years on and off of working online while traveling and living abroad.